As it happens, both the editorial voices of this fanzine are hopeless foodies. ["I am not a Foodie" -- Steve (1985)] This encourages editorial diligence -- "Why don't you come round and eat large amounts of food and write fanzines?" Breakfast is a key meal, and what use is a breakfast without sausages?
Small Ones are More Juicy
Steve writes -- The sausage was a strange shade of green, somewhat reminiscent of insufficiently well-rotted compost heaps. There were peculiar lumps of orange and brown distributed throughout and it was covered in nuts. We looked at it with a dubious air. The things you do when you have people coming to breakfast who aren't prepared to eat huge chunks of bleeding animal, the body fluids still flowing from its quivering form as it lies kicking on the ground with a flint axe embedded in a strategic part of its anatomy....
Fortunately for us, Stroffs of Oxford recently opened up in Reading with a vast selection of sausages including, to our surprise, some vegetarian ones. We plumped for spinach, apricot and smoked tofu sausage. To our surprise, they were stunning. Why did nobody tell me before that vegetables were edible? I could have clambered down the food chain long ago. So, if you're anywhere near Reading (or Oxford) drop in and try some -- I recommend the Lebanese (not dope, you dope, but pork, harissa and pine nuts).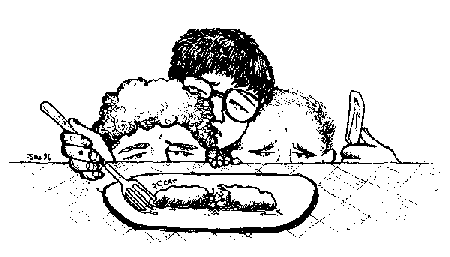 Alison adds -- These sausages were huge. All the women present at breakfast reckoned they'd had smaller men (with one in particular measuring up as a chipolata). And I hadn't realised that pork was a vegetable. If you don't happen to live in Reading, but rather in Walthamstow (and let's face it, 90% of all known fans live in one or the other), you can buy your sausages at Poston's, "East London's Famous Sausage Shop," in Hoe Street. In fairness, Poston's sausages may not be quite as good as Stroff's. They are, however, a whole lot cheaper, and do, in fact, drastically undercut any other gourmet sausage shop I know.
Poston's is regularly frequented by Brian Ameringen, who has a keen eye for a bargain. (Must be why he keeps Caroline...) By 'regularly', I mean annually; he buys the sausages for their party there. He always explains to us that they know him in the shop, always say hello, and often give him a discount. As he's a far better bargain hunter than I am, I haven't the heart to tell him that they know us in the shop, give us a discount, and invariably offer us assorted bones for stock-making.

---
Visit the Plokta News Network: News and comment for SF fandom