Life Imitates Plokta Dept.
A TV programme called TV Dinners has excited much comment because one of the shows visits a family serving up the placenta of their first-born child. The mother brought the placenta home from hospital ready-frozen, and cooked it up in several different ways, including placenta paté, at the baby's naming ceremony. The TV presenter, Hugh Fearnley-Whittingstall, reckoned it was delicious, but several of their guests decided to forgo the opportunity.

The family also buried the umbilical cord underneath a rowan tree in the garden as part of the ceremony, in a traditional pagan ritual traced all the way back to The Wicker Man.

Meanwhile, questions have been asked in Parliament. A mad MP described the programme as "encouraging cannibalism" and demanded that it be banned.

Remember folks, you read it here first.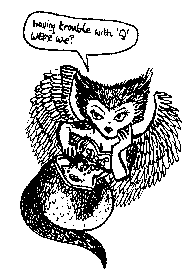 Gail Courtney ponders the dangers of having a nickname that starts with an unusual letter of the alphabet. And who sawed her boat, anyway?

---
Visit the Plokta News Network: News and comment for SF fandom