Contents
Cover Illustration
A reproduction of the cover of the original paper fanzine.
The Hills are Alight
Giulia De Cesare
Another cross-cultural report from our ex-Antipodean member
Calling Occupants of Interplanetary Craft
Marcus L Rowland
Why the world needs more sex in science
Your Chance to Predict the Future
Alison Scott et al
You tell us what's going to happen. We place bets
Needs a Gantt Chart, Vern
Steve Davies
Adventures in Management Consultancy
Lokta Plokta
Readers write. We edit. The gerbils gorge themselves on discarded LoCs. We print the residue
A Few Stills from the Ploktacam
Photos and a very brief report from <plokta.con>
---
This is issue 20 of Plokta, edited by Steve Davies and Alison Scott (paper version) and Mike Scott (web version). It is available for letter of comment (one copy is fine, we pass them over to each other), trade (copies to each of our addresses please), contribution, editorial whim, or in exchange for live Hugo ceremony feeds.
A special apology to Lilian, who sensibly e-mailed us to warn us that she and Victor were no longer an item, so we might not want to make any crass jokes in this issue. Sadly, we couldn't resist.
www.plokta.com Artwork by Sue Mason (Cover, Red Sky At Night, Fire Ranger, Scientists Daughter, Blue Peter), ATom (Editorial), Ben Conable (Moose)
Photos by Alison Scott (Caroline, Alison Freebairn, Con photos), Bridget Bradshaw (Gerbils), Max (Tobes under the knife), Steve Davies (Con photos), Steve Green (Kari)
Picture manipulation by Alison Scott (Complete Itch, Tobes)
The cabal also includes Giulia De Cesare, Sue Mason, George the cat, Marianne Cain and Steven Cain. But we expect to have a new member next issue.
RIP: Joe Mayhew died, only a short while after sending us more fillos and letters. It's a rotten shame.
Plokta captures the Historical Perspective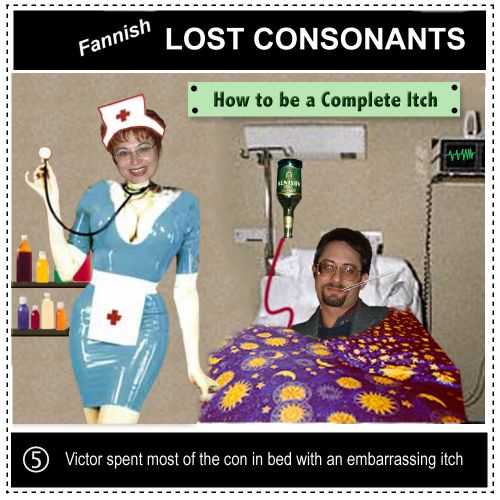 ---