Editorial
HAPPY New Year! Thanks to Dr Plokta's Patent anti-Bug spray, we can guarantee that this issue of Plokta is completely free of any Millennium Bugs whatsoever. However, it has suffered from the human components of the fanzine partying, well, like it's 2000 actually. The cabal is, however, riven by internal dissent on the matter of whether this is the real Millennium or not. We think the only solution is to have another big party next year.
One aspect of Plokta which we rarely talk about is our missionary work. We are committed to taking superfluous technology to the farthest reaches of the United Kingdom. On Boxing Day Steven and Alison took Vin¢ Clarke's computer (stripped down and rebuilt from Bernie Peek's spare parts) up to Terry Jeeves in Scarborough. Terry was delighted by the new machine, as his previous computer, used to produce several thousand issues of Erg, was entirely valve-driven and relied for its internal memory on a particularly well organised colony of naked mole-rats.
The week after New Year, we went down to Swansea to take a second PC (made of Bernie's remaining bits) to Jo Walton. She immediately dubbed it "Giant Ant". Sasha is sulking because it's got a better spec than his.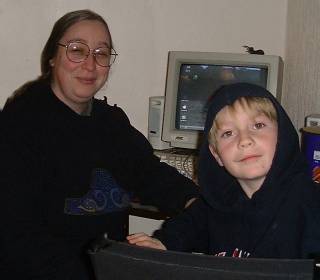 It was a bugger getting down the chimney
As a result of the various celebrations, we had the longest ever opportunity to finish the fanzine over the New Year break. However, between experiencing Tony Blair's Fanfare for the Common Voter, hosting a small lunchtime party that eventually broke up about midnight, eating enough chocolate to sink a battleship, putting Podzilla head to head against the firebreathing nun (with the yuppie Buddhist monk refereeing), having a gay time with the instant karaoke version of The Sound of Music (Mike very briefly sat between Sue and Alison, experienced live-action Surround Sound, and retired deaf), shooting the evil animatronic budgie with several dozen party poppers, demonstrating the Plokta editorial collective in action to Michael Abbott and Anne Wilson, scouring north London for an open supermarket on the second of January, tranquilising Marianne with dozens of Barney videos, and tranquilising Giulia with the Not Even A Little Bit Homoerotic Interview with the Vampire, we haven't really had time.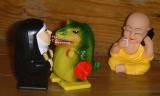 We have discovered that one of the hazards of moving house and writing about it in the fanzine, is that everyone who wrote to us this month told us their awful house moving stories. You can see most of these in the WAHF column. Sorry.
This seems to have turned out to be the Y2K Bungee Jumping Special Issue of Plokta. Great to have themes.
Since Christmas, Mike has lost his job (but rubs his hands with glee whenever he reads ads for web database gurus, and reaches for his labcoat and dark glasses) and Sue is working in her local post office. Meanwhile, Alison is thinking up great ideas for Internet startups (the Plokta equivalent of lottery fantasies), and Marianne is driving us all bananas. George has been keeping with the theme by trying budgie jumping, but the buggers are too fast for him.

---