Contents
Cover Illustration
A colour reproduction of the cover of the original paper fanzine.
Editorial
The editors rabbit on about nothing very much for a couple of columns.
<plokta.con>
Chris Conway
Please read this to find out how to get to the con, and book your hotel room now please. Also some local information about Leicester.
The Moose is a Harsh Mattress
Steve Davies
How much is it possible to spend on a bed? The cabal conduct a special investigation.
Five Gold Rings
Alison Scott
When shall we thirteen meet again? High summer sometime in 2001, if we can believe the roll of the dice.
The Four Fluid Path
Steven Cain
Our Oriental Mystic Correspondent reports.
Lokta Plokta
Our correspondents ruminate on every conceivable subject except for house-moving. Trust us, you'll be grateful for this omission.
What's in a Name?
Giulia de Cesare
Giulia demonstrates that she's considerably more marriageable than we thought.
---
This is issue 18 of Plokta, edited by Steve "Mothra" Davies and Alison "Titanosaurus" Scott (paper version) and Mike "Cosmic Mechagodzilla" Scott (web version). It is available on editorial yen.
www.plokta.com Artwork by Sue Mason (Sue for TAFF, George, Marianne, Santa, Corflu (1) & Dragon), SMS (Invitation), Craig Smith (Corflu (2)), Mae Strelkov (Hecto), Joe Mayhew (Madame Ctyob), and Terry Jeeves (Miss Universe 2001)
Photos by Alison Scott (Bed, Steve, Lenin) Austin Benson (Amanda Baker, Gary Stratmann & Red Wine Fairies) and Moshe Feder (cover)
Picture manipulation by Alison Scott (Cover, St*rb*cks, Steve)
The cabal also includes Giulia "Gamera" De Cesare, Sue "Catbus" Mason, George "Barugon" the cat, Marianne "Podzilla" Cain and Steven "hiding in the toilet" Cain.
<plokta.con> is happening 26-29 May. See page 4. The con address is 3 York St, Altrincham, Cheshire, WA15 9QH and the website is www.plokta.com/plokta.con/
You need to book your hotel room if you haven't already done so. Please book by 30 April if at all possible.

Phone 0116 253 1161

Fax 0116 251 3169

Quote "plokta.con" to get the convention rate.
Alternative History #1
What if caffeine had been banned but opium was legal?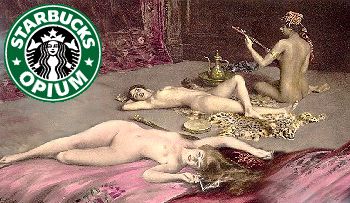 The Bad Girls Room at Corflu

---