Gardner Dozois' Patented Pickup Line
YOU'RE never too old to have a schoolgirl crush. Well, I'm not. And lucky it is, as it meant I had a truly great Worldcon adventure. It was perhaps the perfect flirting moment and took place with my editing idol Gardner Dozois. It takes a bit of background to understand why he's my idol, but at the end you get to hear Gardner's patented, perfect pick-up line as guaranteed by George R.R. Martin.
I've always admired Gardner Dozois as an editor and writer. At Orycon a few years back, he had asked for an interview as his GOH presentation. In front of a packed room, interviewer Eileen Gunn revealed her plan to play Stump the Editor. Friends of Gardner had been solicited for questions and a stopwatch was used to gauge which question slowed him down the most. After a few almost legit questions Eileen turned to Gardner and casually drawled, "So Gardner, who do you have to fuck to sell a story to Asimov's?" To which he replied, almost without pause, "Why, Isaac—of course, these days you have to be more determined…"
Then Eileen turned the interview on a dime, making it serious. She put Gardner on the spot on the future and place of short fiction in the genre. It was a brilliant hour where I was entranced by Gardner's grace, intelligence, and love for the field.
In the Chicon Dealers' Room Gardner was hawking Asimov's and Analog. When I walked by, Gardner had George R.R. Martin signing magazines while he lured passersby in. As I got close, Gardner saw me pause, making me a clear mark. "Hey, for subscribing today you can get famous author George R.R. Martin's autograph." I stopped. "With his room number," Gardner continued.
"Well, then, maybe not today," said I, starting to walk on.
"For you, you can get the rare Martin autograph without his room number." Hey, how could I resist?
While George was signing the magazines, Connie Willis approached the table. In her clean-cut, innocent voice (I really envy her being able to sound like that, I sure can't) she said, "Gee, do you mean you can buy this fine magazine right here for a bargain price?" This lady also knows something about drawing a crowd.
"To heck with him, " I said, "Can I get her autograph?" Hearing this Connie bent down to George and said, "See, she likes me best" and signed my magazines.
When Gardner handed me them back, I stopped him and asked for his autograph on them too. Gardner offhandedly asked if I wanted his room number. Now, I pride myself on a quick line, but remember I've got this crush on Gardner and it led to that deadly moment of hesitation, the one where no, I don't want his room number but his saying it made me pause. George Martin looked me over and informed Gardner that I really wanted that room number. Then he suggested Gardner share his patented pick-up line with me. Gardner said, "She's cute enough for it."
Gardner reached across the table, took my hand, stroked it, and gazed into my eyes. He has very blue eyes. He gives great eye contact. In a deeply meaningful voice, he says:
"How bad can it be? How long can it take?" -
--Patty Wells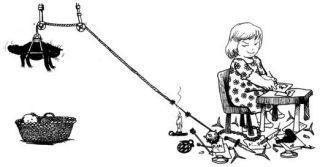 ---