Friends Come in Boxes
I TEACH at Hobbycraft; sort of a craft supermarket in a vast aircraft hanger on the outskirts of the seething metropolis of Stockport. A fine institution, she types, knowing who pays the bills. They fleece the unsuspecting people of Stockport and pay £20 for two hours of my precious time so I can teach them how to set fire to things. They also pay me to do demos, selling my classes by sitting in the cavernous warehouse on rainy Saturdays, doing what comes naturally, drawing stuff. And then they give me more money. Life is hard.
So, I'm sat at my table entertaining the masses with my stunning display of Pyrography without the aid of a safety net and one of the staff, Deborah, is filling shelves in the time honoured way of shelf fillers.
More precisely, she's filling the shelves with little papier maché boxes. Smashing things, little papier maché boxes. Loads of uses. Easter they get painted with bunnies and chicks. Halloween with pumpkins and ghosts. Christmas, well, endless possibilities for ways to delight and amuse with a little box made of compressed paper. My craft classes succeed or fail on the strength of such staples as papier maché boxes.
They come from the tropics. The Philippines, to be precise. Or possibly Singapore. Some poor, oppressed, bored, disadvantaged little Filipina girls sit under the blazing sun and mould little boxes for Hobbycraft to flog at 49p each. There's probably a law against it. Like there's probably laws prohibiting oppressed little girls in Walthamstow from being dragooned into stuffing seething mounds of envelopes with fanzines for countless hours on end. But we here at Plokta Central are firm believers in the adage: ignorance is bliss.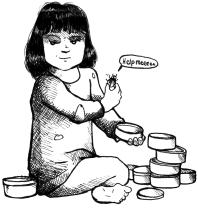 Anyway, dubious ethics aside, dead useful are little papier maché boxes.
Deborah is busily filling the shelves and lining up the boxes into regimented rows. "Ooh, look," she remarks. "Someone's put a toy beetle in this one." She tips it out onto her hand and brings it over to me for perusal. It is indeed a beetle. A shiny, green black beetle, about two inches long. She stands there, holding the bug under my nose. It really is a rather splendid beetle. Very realistic. Very beetle like.
I point out to her that it is indeed a beetle. That in its home of the Philippines, it would be considered a very fine beetle. That she might consider putting it back in the box she found it in. Unless, of course, she's the sort of person who doesn't get all squicked out by having a bloody big bug on her hand?
Ah, she is the sort of person who gets all hysterical over having a beetle on her hand. Oops.
Oh well, I'm sure it will flourish in the nice warm climes of Stockport.
--Sue Mason

---