Decking The Halls With Thorazine
TODAY Alison's Christmas card and newsletter arrived in the mail. I can't say I envy anyone whose children are young enough to appear in a photo in moose antlers without judicious motivation, say with a cattle prod, but I sighed anyway. I am defeated by Christmas letters. Every year, as I read friends' organized summaries of the year, I find I can't remember what any of us were doing in April, let alone January. And every time I sit down to try and write something like that, the whole family comes out sounding like, well, like deranged SF fans, no matter how hard I try. 2001's attempt went something like this:
We started the year out with the annual invasion of box beetles. Our house is surrounded by trees and greenery, which is the summer home to these lovely black beetles who are clearly native Oregonians and can't take the cold. During a cold snap they sneak into the house and warm themselves, primarily on my bedside lamp. When I am in a bad mood I offer a 10 cent per beetle bounty and we toast them in the fireplace. When I'm feeling life affirming we carefully put them back outside, admonishing them to go buy jackets. But I'm sure they sneak back in anyway.
In May we held Zoe and Lillie's tenth birthday party. I allowed them the activity they wanted more than life itself, which involved several girls taking turns getting hit in the face with whipped cream pies. I liked this ever so much more than the roller-skating (where all I ever do is fall down) because I manned the camera and didn't get pied. I have perfect pictures for blackmail, ready for use once they start dating. Luckily it rained the next day, so the deck smelled less of rancid cream than it might have.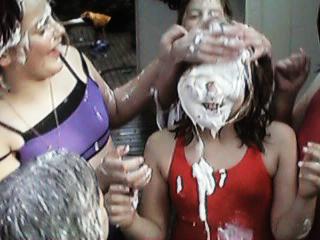 Just another normal, wholesome activity with the children
June disappeared altogether. I'm sure I saw it somewhere, it's probably on my desk with everything else, including a 12-track Westercon program.
July was Westercon where my 12-year-old son Sean was on the committee for the first time. He was a good deal more useful than many older committee people, and asked me why so many people are such idiots. It's sad when they have to grow up and see what they'll be facing throughout life. Following Westercon I found the floor in my laundry room for the first time in ages. I still don't care for the linoleum.
In August that 12 year old became a teenager and enormous alien slugs landed in our back yard. In case you don't have children, the aliens are much less troublesome. Plus there's the added advantage that the aliens aren't insulted and don't storm off to their planet if you kid them in your fanzine articles.
In October I mislaid the laundry room floor again. At least I don't have to look at the linoleum.
In December we went out to a Christmas tree farm to cut down our tree. For any other family this would be the perfect Christmas card moment. Not us. Lillie and I found a slightly mutant Douglas fir with one long limb sticking waaay out. We wanted to take it home and watch people walk into the protruding branch. Zoe, who strives for perfection (and no, we don't know what she's doing with us) argued for a perfectly symmetrical tree. Marc and Sean wisely stayed out of it. A nice family with a grandmother who only spoke Japanese managed to pick out, cut a tree and carry it off in the time we were shouting the perfect tree. Grandmother seemed to find us a bit peculiar. Lillie and I eventually outvoted Zoe and all of us have walked into the mutant branch at least once.
It's a typical Wells Christmas. I've hidden the presents I bought in a fit of organization in October entirely too well, and the 'outdoor' ornaments have lost their color. Luckily they faded to a nice silver, so I'm pretending they're supposed to look like that. Across the way, the neighbors have put up a display that included six garden gnome-like Santas and a dozen candy canes roughly the size of Lillie. The candy canes are okay, but the Santas have a definite Killer Klowns from Outer Space stare. They frighten me. I find myself peering from behind the draperies each morning, checking to make sure they aren't inching closer to our house. The Santa on their roof actually does seem to be inching forward, but I tell myself it's only the slope of the roof. After all, I can't waste my paranoia on Santa Clauses when I need it for coping with John Ashcroft (who, come to think of it, has the same Killer Klown stare in press conferences) as he interprets civil rights as optional.
See, it just never comes out sounding right. But next year I really do plan to get organized and do the Christmas thing up right. I'm going to start with a nice group photo for a Christmas card, one with the box beetles in front of the fireplace.
—Patty Wells
---