Leg-Over Fan Fund
Farber Day dawned bright and clear, so we packed up the car with tables, computers, paper plates, plastic cups, blankets, stationery, printers, sun hats, portable electric fan, flip chart, spare pens, diskettes, watermelons, barbecue, cuddly toy, fondue set... about the only thing we were able to leave home without was the Amex card, and that was only because we had the uncut sheaves of Farber Dollars. Oh, and a guillotine.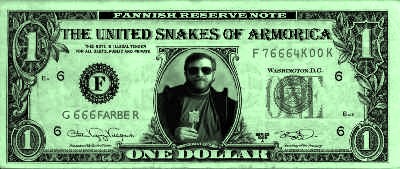 Hampstead was warm and sunny and the immaculate garden beckoned. At the top of an infinite staircase of which Escher would have been proud, I lay around in Bridget's father's flat, cut up Farber Dollars and alternated between panicking and trying to suppress panic in others. We realised we hadn't made any arrangements for lunch so a brief pizza interlude occurred while we wondered about the downstairs neighbours. They had been warned. "They never go out into the garden," said Bridget confidently. "Honestly."
We looked out of the window. "They're doing it on purpose! Honestly, they never..."
"I wouldn't worry. We'll just set up around them. Heh, heh, heh..."
They moved.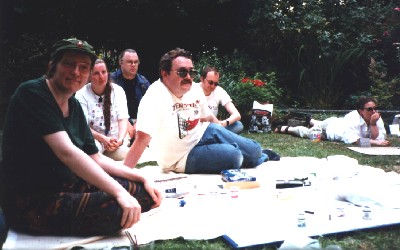 So, Farber Day got off to a start. Did I mention that there was another infinite staircase down to the garden?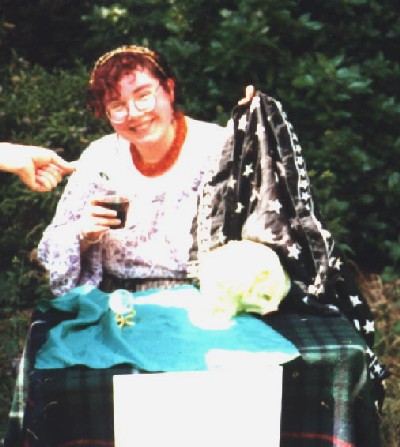 We had Mystic Sue and her Amazing Fortune-Telling Lettuce ("Peel back the veils of lettuce and see what the future holds.") Suspiciously often, the victim discovered their future held a worldcon chair badge. After the first few ran screaming, word got round that maybe the Lettuce was rigged -- had it accepted WSFS sponsorship? The shock was still such that nerves had to be soothed by Brian Ameringen's punch.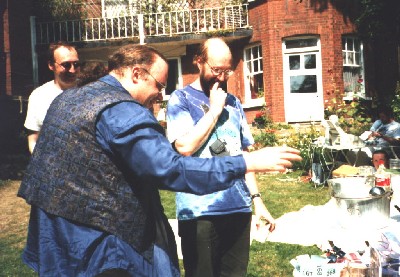 Mark Plummer and Steven Cain soothe their ruffled nerves repeatedly
Courageous camo-clad explorers disappeared into the depths of the Fanzine Jungle, eventually returning clutching handfuls of the Lost Fanzines of Gary Farber; lovingly crafted, hand-stapled eight page A8 fanzines featuring Farberisms gleaned from the Internet. Titles included Gary Farber's Cakewalk, Runcible, Farber's Transatlantic Tarts and Playfarber. "Light, precocious little numbers, not as full-bodied as, say, Attitude, but I like their presumption..." For some reason, nobody managed to find a copy of fanzine number 6. Plokta is able to reveal that this is because number 6 was NanoBento, and was hence invisible to the naked eye.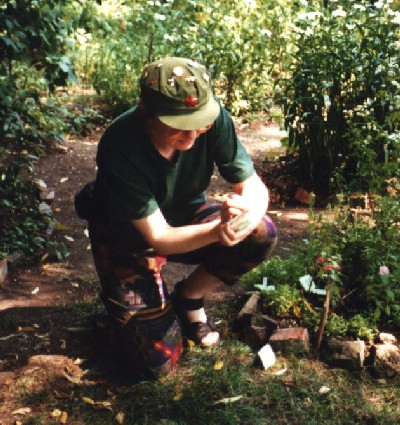 Caroline Mullan of the People's Army
As the day grew hotter there was ever more recourse to Brian's refreshing yet suspiciously intoxicating punch, leading to a number of planned activities being cancelled in favour of lying around in the sun. Meanwhile, the superfluous technology table, producing the live-action Farber World News, went into melt-down. "It seems to have fried the hard disk," muttered Steve, wringing his hands in dismay at the error messages appearing on the screen of his beloved laptop. Then the screen went too.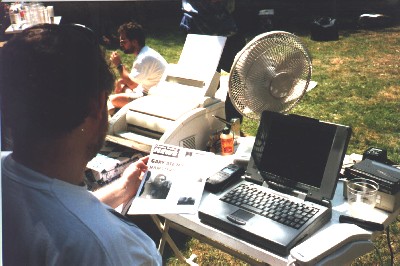 Houston, Houston, we have a problem...
Fortunately, by the time a little medicinal punch had been administered to the distraught owner, the laptop cooled off enough to come back up again. It spent the rest of the day basking in the cooling airflow from the fan.
Meanwhile, lateral-thinking Alison had found a way to beat the meat heat. Tastefully clad in a black bin liner (she made us cut air-holes in it), she invited the assembled throng to pay good money to pelt her with cold wet sponges. Many of those whom she had earlier fleeced at the tombola took their chance for revenge at vast expense. Many, many Farber Dollars were donated to Mike Scott during this event.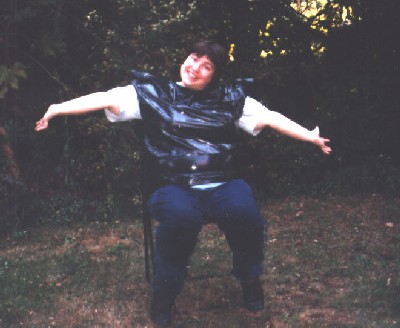 "They couldn't hit an elephant at this dist..."
The Erotic Fruit-Eating Contest was as obscene as expected, and was handily won by Mystic Sue and the world's happiest plums.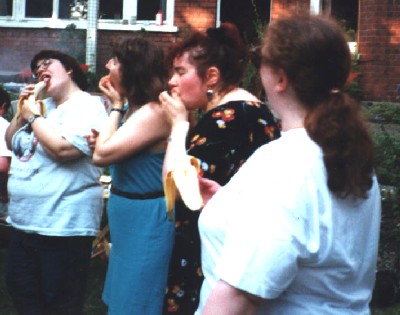 Lipsmackin'Plumsuckin'Bananalickin' Fruitsmearin'Knickerwettin'...
Other events included the Brooklyn to Birmingham Cockroach Race, and all-comers challenge Astral Pole. The latter starred Pat McMurray, who failed the first stage of stepping over the pole.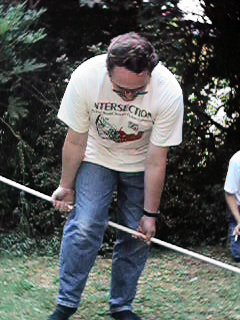 Where do I stick this pole next?
As the sun went down, Pat demonstrated that he was much better when armed with an instant barbecue and a large number of sausages. Any bananas that could be rescued from Nina's erotic clutches were stuffed with chocolate and barbecued for pudding. The live Transatlantic link went ahead as planned; the Americans, on hearing of the sponge slinging, insisted on pledging more money on Mike's behalf. Alison had just begun to dry out. There were lots of enthusiastic bids in the grand Charity Auction; possibly due to the fact that everyone had forgotten that Farber Dollars were money really. Top attraction was Sue Mason's tasteful Squawking, Egg-Laying Electric Chicken. Apologies to Gail, who gave Sue the chicken as a token of her deep and lasting esteem, but Sue couldn't stand to live with it any longer.
As night fell, the celebrations were pronounced a great success; everyone had been fleeced apart from the psheep, money had been raised, and Dangercon had announced that the Farber Fund would be the official con charity. If you missed it, though, you can still buy Farber Fare [September 1997: Not any more, I'm afraid.], as follows:
Poctsarcds: 4 limited edition postcards, with illustrations by D West and Dave Mooring, featuring fine fannish jokes, slander and innuendo. 50p each, or £1.50 the set.
Farber Dollars: Your chance to buy the special Farber Day currency, at the low, low exchange rate of 50p for one Farber dollar. Lovingly hand-crafted by Steve Davies' previous laser printer; mutilating US currency in this way is a capital offence in the lower forty-eight.
Tiny Fanzines: Not one, not two but twelve different fanzines were distributed at Farber Day! And now, you can collect all twelve! All different titles, so buying a complete set qualifies you to vote for us in the Novas even if you've never read a fanzine before in your life! Featuring fan writing by Gary himself, Pam Wells, and gratuitous editorial comment by Alison Scott.
50p each or a fiver for a complete set. Complete with grass stains, because these previously appeared in the Fanzine Jungle at the bottom of Bridget's garden.
Farber World News: The Farber Day official newsletter, produced in appalling conditions in the garden with Superfluous Technology and some very long wires. Copies can be yours for only 50p.
All of these are available by post, provided that you send us an stamped, self addressed envelope (SAE) or near equivalent.
Special Bonus Offer: A complete set of all of the above, posted airmail to Anywhere In the World, for only £10 or $15. Cheques in pounds or dollars only, pounds made payable to Bridget Hardcastle, dollars made payable to Roger Robinson. Available from the Plokta addresses.
-- Giulia De Cesare

---
Visit the Plokta News Network: News and comment for SF fandom