We asked Steven to write us an article about Tai Chi, which he's learning at present. This is what he produced.
What this country needs is more bollocks
When I first lived just north of Hyde Park in the early eighties, I was surprised to learn that the corner near Marble Arch was a shrine to free speech. Speakers Corner is an ancient and venerable institution. Every Sunday anybody who has anything to say, no matter how stupid, can gush forth on the topic of their choice. Not only that, but for once the police will actively defend your right to have your say. This makes it the only place in the UK with the privilege of completely free speech. Speakers Corner is on the site of the Tyburn gallows, and heckling the speakers has replaced the more humane practice of watching public executions.

There are advantages to living in a tourist trap. During my time in Lancaster Gate I frequented the royal parks, the excellent shopping, and the traditional English public houses. It didn't immediately occur to me that I should bother to visit Speakers Corner. Wasn't it just a load of religious and politico loonies strutting their stuff? Sounded pretty boring. My friend Andy persuaded me that it was worth going to the Corner for a Sunday session, usually after a different sort of session at our favourite watering hole near Marble Arch. Suitably lubricated we would stroll through the underpasses, past the pavement artists and the beggars, and up onto the Corner.

Speakers Corner is seen as a bastion of free speech. Perhaps it's purely symbolic these days, but it may well have had a function once. Most of the speakers act as if this tradition is awfully important. I was reminded of SF fandom's emphasis on a continuous tradition stretching back a mere seventy years.

The speakers come to Hyde Park with a message they feel needs to be communicated. Many of them bring along their own audiences, of people who are already converts to the cause, and seem to be there mostly to provide moral support. Often there are no dissenting voices and the exercise takes on a self-congratulatory air. Sometimes there is debate or even argument. Less often it gets rather heated, and very, very occasionally the boys in blue have to separate the combatants. But nevertheless, even strongly disagreeing parties usually believe in the importance of the issues being discussed.

By way of contrast, most of the non-partisan spectators are there purely for sport, and have little or no interest in what's being said. They've come to see the nutters in the Speakers Enclosure at the Hyde Park Human Zoo.

Doesn't look a day over 180
Ignoring the raving politicos and obvious religious fanatics, Andy would point out the more sensible and capable speakers, like Lord Soper, the Methodist Labour peer. But we would not stop and listen. We were no more looking for sensible oratory than any other zoo-goers. In the spirit of David Attenborough we were searching for a different sort of loony.
Speakers Corner appears to be a natural habitat for those who have the necessary conviction to express deeply held views. It also attracts others who stand up purely as self advertisement, in search of a particular buzz. But life is cruel in the soapbox jungle. Some try to speak and freeze, others mumble and fumble before bashfully slinking away. Then there are those who not only possess colossal chutzpah, but also have a certain spark, a certain goofiness that provides immense entertainment for those who are looking for it.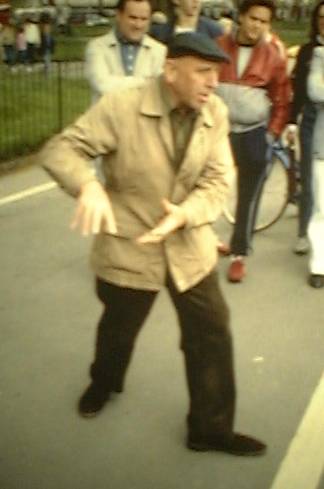 The most prominent example was Barker. From his smart dress and refined tones you could be forgiven for mistaking him for a City gent. In fact Barker sells newspapers from a pitch near Marble Arch, and presumably after watching the Human Zoo for a while decided to take a turn at subverting the genre. His spiel was not unlike the jingoistic ramblings you might hear from the seriously deranged. He would suggest that we put the 'great' back into 'Great Britain' by a programme of blanket repatriation for our coloured cousins.
Where he differed was in his refusal to resort to anything purporting to be rational argument. If a member of his audience objected to the stand he was taking, he would concentrate on deprecating the dissenter, making no attempt to defend the logic of his position. This was especially true if he saw that the objector was of a coloured persuasion, when he would exhort them to return home on the next banana boat, and get back up in the trees where they came from. While I would normally think of this as tastelessness of the highest order, in practice the effect was to accentuate the absurdity of the racist position. Sometimes to reinforce the air of farce he would engage in his polemic while wearing a hat with a built in umbrella. Interestingly, he had a lucrative sideline selling these hats.
Of course, some of the more driven nutters were even less prone to engage in supposedly rational debate, but where they would froth at the mouth, Barker remained coolly polite. Except that sometimes things did get a little fraught, usually because the heckler had failed, perhaps not unreasonably, to see the explicitly nasty attack on them as a joke. Under sustained and abusive counter-attack Barker could get a bit het up himself, and I began to worry that he might actually have racist views. A bit of a blot on an otherwise amusing sideshow.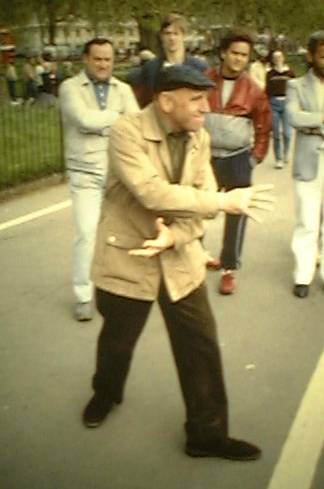 Perhaps the prize specimen in the Hyde Park bestiary was The Walker, who certainly never expressed racist or indeed any other views. Imagine that a gurning flatcapped Norman Wisdom was improvising Tai Chi while somehow acquiring an absurd gravitas, synchronising a paranoid monologue with dreamily slow movements.
---
A fanzine about
Superfluous technology
Will never catch on.

---
'They don't want us to know it but they are up to no good, but... <Pause: stands on one leg and flaps arms, grinning inanely>... then they never are... If you think about it, they are out to thwart us, <Mimes holding a beach ball and grimaces> then again....' It was never clear who 'they' were, or what 'they' did, or how 'they' were up to no good, or even what 'they' were thwarting. Indeed, The Walker expressed a vaguely defined unease in the evasive manner of briefings in Yes, Minister, so that his soliloquy had no discernible content whatsoever. It's difficult to capture the effect in mere words, and indeed if I had the clear-eyed confidence of The Walker I'd think about being a politician, or a timeshare salesman, or maybe the inmates' representative dealing with the asylum guards.
Another highlight was the Kiwi prophet with a hotline from God, preaching the Apocalypse. We only saw him a couple of times, so we didn't get to give him a name. Still, he couldn't be expected to stay for very long - he was quite clear that in early 1982 the Apocalypse would arrive, the Earth would be turned inside out and the continents would lie on the inner surface of a hollow sphere. At which point our trusty prophet would be propelled in a straight line from the British Isles across the inside of the sphere to Godzone, aka God's Own country, which is to say New Zealand. Unusually among the denizens of Speakers Corner, the prophet had a number of props, to vouchsafe the truth of his message. First and foremost, he was clad in prophetic brown clothing, much in the manner of a Kiwi Catweazle, but with the addition of a light wooden gantry which would help him somehow with his landing in the Antipodes. Secondly he supported his geographical ruminations using a world map with a South upward orientation, and the words 'God's Own Country' helpfully printed across the relevant part of the map (available in Kiwi shops across London I understand). Most importantly he had a hotline from God, which an uncharitable observer might have confused with the plastic handset from a toy telephone, together with a piece of string.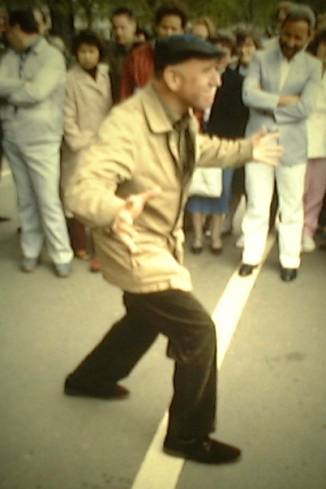 A key skill for any public speaker is the ability to deal with heckling. Barker dealt picturesquely if brusquely with adverse reaction. The Walker would respond to any interjection by pausing, smiling inanely, and seamlessly echoing the comment in his web of non-expression. With his hotline from God the Kiwi prophet had a natural advantage in the audience management stakes. When asked to explain himself, he could always quiz the Almighty for a definitive response. With this authority, when whinging Poms complained about the complete destruction of the British Isles during planetary inversion, the prophet could sneer at sentimentality, and point out the benefits of obliterating Croydon. Who could argue with logic like that?
In this way we were entertained in our own special corner of the zoo. I realise now that those were the good old days. My visits may have been at the high tide of quality bollocks. Since then there have been cutbacks and a lot of codswallop has had to be downsized. I've taken Alison along in recent years and Speakers Corner has bristled only with loonies of the more serious stripe. And of course Lord Soper, presumably now in his nineties, undiminished in clarity and fervour though looking a little frail -- he does now have a little man who carries his soapbox.
But it's all a bit serious. Where has all the bollocks gone? It might have been an eighties thing -- perhaps an excess of Cadbury's Fruit and Nut in the diet of the nation caused a superabundance of tosh. Maybe in the nineties there is no place for codswallop in the public arena.
On the other hand, maybe this is another problem that can be laid at the door of the Internet. Both Usenet News and the World Wide Web are extremely powerful bollocks magnets, and they have inexorably drawn large quantities of codswallop into cyberspace. Nowadays if you want to spout nonsense to the masses, you put up a website.
So is there still a need for an institution like Speakers Corner, now that freedom of bollocks is a global reality? Maybe not, but it would be a shame to lose copper-bottomed insanity of the sort we found there. It seems unlikely that The Walker's Tai Chi would translate to the web, and I can't find a Kiwi hotline to God there either. I doubt that Barker's racist outpourings would be quite so charming in HTML. So where on earth will people like this go to spout tosh on fine summer Sundays? Soon there'll be no natural UK home for people like this. Apart from the Houses of Parliament and the Church of England.
-- Steven Cain
---
Obsessed with the past
This zine's full of history.
Cures insomnia.


---
Visit the Plokta News Network: News and comment for SF fandom