Editorial
Welcome to this, the special all-IKEA issue of Plokta, with starring appearances from Fukt, Krapp, Boj and all of your other favourite IKEA product lines. Guess which one we made up.
Now, for the first time, we can proclaim ourselves as a Hugo-losing fanzine. Yes, we're well on the way to losing every single major fannish award going. As we garner plaudits like "Sometimes the cleverness of Plokta is a little too clever" (EB Frohvet) and "could be emanating from any group of friends" (G. Pickersgill) our secret plan for the total subversion of fandom will soon reach completion. Soon the sevagram will be ours!
So, what have we been doing since we last produced a fanzine? Well, Steven and Alison have moved house, of which more later, and Steve and Giulia went to Australia for a chance to lose the Hugo in person and watch Langford picking up a brace. Meanwhile, the Poor wing of the Plokta cabal made a valiant attempt to watch the proceedings live over the web, but only managed to order a lifetime guaranteed Furby set of kitchen knives and download a number of interesting anatomically correct Swedish pictures of fruit and vegetables. We would print one here, but Mae would never let us hear the end of it.
---
Caught with his beard in the mailbox
(old IKEA saying)
---
Nevertheless, our little North London Hugo losers' party went off quite well. We had good weather and loads of booze, and even the requisite phone call from Australia:
"Hi Steve; I gather we've lost! How's the Hugo Losers' Party?"
"How should I know? I haven't got to it yet because I've been trying to phone you for nearly an hour."
So we drowned our sorrows in a vat of Pimms, and, in honour of Australia, ate a large number of charred and blackened animals. And I got drunk after that and quite forget the rest.
Meanwhile, Sue has acquired gainful employment, teaching the under-utilised housewives of Didsbury how to make Christmas crafts. They seem to enjoy themselves, though they were a bit confused about the precise place in the Christian myth cycle of Herne the Hunter and Ploktaroth the Suneater.
---
"Marianne! Go to your cupboard!"
(traditional Walthamstow saying)
---
You can now also buy Sue's artwork and pyrography from her splendid website at http://www.plokta.com/woodlore/, lovingly hand-crafted by Dr Plokta. It includes some examples of her work and an idea of the sorts of stuff she does. We (partisanly) particularly recommend her for one-off commissions like wedding and baby presents. Not to mention change of address cards.
Talking of Sue, she's planning to run for TAFF. By the time you read this Plokta, we should be plastering promotional "Sue Mason for TAFF" fliers, posters, beermats, mousemats, biros and other ephemera all over a convention near you. Vote for Sue. Remember, we know where you live.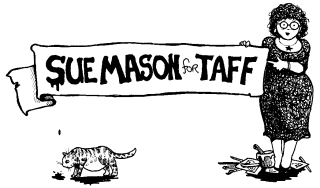 ---