Contents
Cover Illustration
A colour reproduction of the cover of the original paper fanzine.
Editorial
What we've been up to and so on, including Sue's TAFF candidacy.
Announcing <plokta.con>
Well, it was about time to run another con. So we are. Read all about it here and then send us all your money.
Have You been Abducted By Aliens?
Mike Scott
A Special Plokta probe
Marching Up and Down Again
Brian Ameringen
For those of you who were wondering how to assert yourselves with shoddy suppliers, Brian gives us some tips.
Losing a Hugo in Five Easy Lessons
Steve Davies
Steve recounts his Antipodean exploits in search of good fellowship, good beer and Hugo awards.
Lokta Plokta
The usual range of letters from our correspondents, principally offering advice and assistance with the Great Pre-Millennial Full-Stop Shortage.
With the Vacuum on, No-one can hear you Scream
Alison Scott
Alison ruminates on the trials and tribulations associated with moving house.
---
This is issue 16 of Plokta, edited by Steve Davies and Alison Scott (paper version) and Mike Scott (web version). It is available for letter of comment (one copy is fine, we pass them over to each other), trade (3 copies if possible, please), contribution, editorial whim, or interior decoration tips. Other than books. We've worked out that one.
Artwork by Sue Mason (TAFF banner, Cats, Langford with Aliens, Keep on Repairin', Customer Service, Merkins, Semi-colons, Iguana), Joe Mayhew (Wee-folkish), Steve Jeffery (Pod Bay Doors, Exfoliate, Whippet)
Photos by Alison Scott (Corruption of Youth, House, Marianne), Steve Davies (Cover, Dave Langford, Aussiecon photos)
Photo manipulation by Mike Scott (Cover), Alison Scott (Corruption of Youth)
The full stops on pages 3 to 9 appear courtesy of Joe Mayhew.
The cabal also includes Giulia "No, Mother, I don't care how many baby clothes you've knitted" De Cesare, Sue "Why am I making Fymo moose" Mason, George "Chairman of <plokta.con>" the cat, Marianne "two houses" Cain and Steven "two mortgages" Cain.
Corruption of Youth Special
While half the Plokta cabal were circumnavigating the globe, the rest of us were celebrating in Walthamstow with barbecue of various kinds. The old folks sat around having merry cheer, while the young folks took off all their clothes and ran around screaming a lot and sliding into the paddling pool. We ran out of Pimms, which wasn't critical, and of Calor Gas, which was.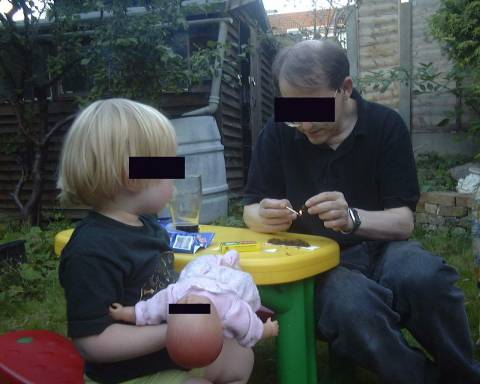 Evil sushi chef A_______ H_________ pictured here teaching an innocent toddler how to make a California roll

---