Dr Plokta and His Infeasibly Large Herpes
We've been meeting some bizarre pets recently. Dr Plokta invited the cabal to visit him at his remote Fortress of Solitude in the North. ("I'm not entirely sure you can have a semi-detached Fortress of Solitude", pointed out Captain Pedantic). We discovered he keeps the fortress protected with an attack gecko.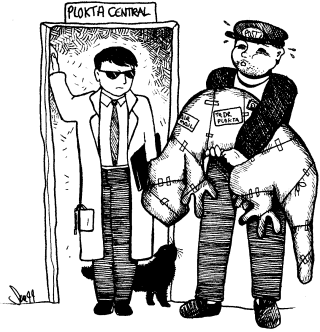 Postage due on this one, mate
"It just arrived in the post," explained Dr Plokta, as we sat around watching the gecko, which was sunning himself on the top of Dr Plokta's alarm clock. "I was sitting here minding my own business, when the postman arrived with a large, gecko-shaped parcel with some holes punched in the top."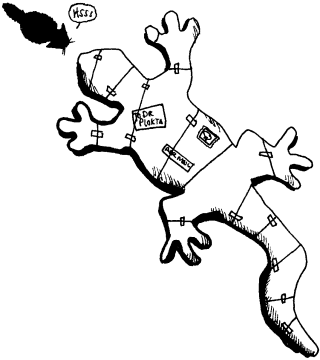 We admired the enormous gecko, which is about four foot long. Dr P didn't quite seem the type to keep exotic pets, though. What he needed was a local Herpetological Society.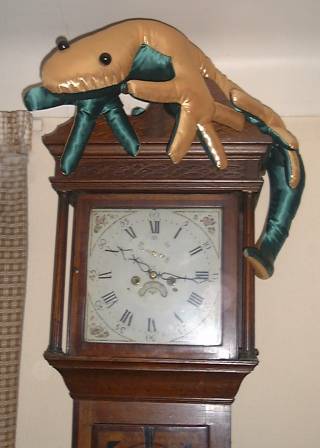 Speaking of which, the other week Steven and I were wandering around Cambridge in the rain with Austin and Caro. They suggested we should spend the evening visiting the Cambridge Herpetological Society.[Note the cool segue -- Ed.] "Why on earth would we want to do that?" we wondered. "Well, they're bringing along a lot of snakes. Including a 15 foot Burmese Python," explained Austin. We thought that it would be quite fun for Marianne to meet some snakes first hand. So off we went, paying our 50p to get in.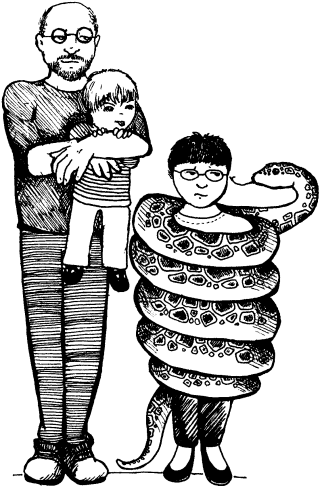 Some of the small snakes were quite friendly. Most of them weren't venomous, though I did pick up a venomous snake for the first time. Hognose snakes are about as venomous as a wasp, so, unlike other venomous snakes, you can keep them as pets. I looked around but I couldn't see a 15ft Burmese python anywhere, though there were a couple of other enormous snakes. "We'll be getting Sophie out a bit later," explained the snake fanciers.
For people who want to keep reptiles at home, the standard starter snake is the corn snake-like Marcus Rowland's snakes Sam and Cornelia and all his little snakelets. Corn snakes are mostly red or yellow and have very beautiful patterns. They make pretty easy pets which are a great deal more interesting than hamsters. Not to mention a great deal less vicious. They eat mice, which you buy pre-frozen and keep in a bag in the freezer. The bigger the snake, the more mousicles they eat, and the less often. Tiny snakes eat pinkies (very tiny baby mice) or fluffies (slightly bigger baby mice). For bigger snakes you go for ratsicles, and great big buggers like Sophie eat two large rabbit Cornettos about once a month.
The catch is that corn snakes don't curl lovingly round your arm like the constrictors do. Even a little constrictor is like having your own personal serpentine masseuse. I was delighted with the boas on display and played with them all. The catch, is of course, that they don't stay small. Even the easiest constrictor qualifies as rather a specialist pet. Astonishingly, you don't need any kind of licence to keep them in the UK.
Burmese Pythons are a particularly poor choice of housepet. People buy 18 inch baby pythons in pet shops for a few pounds, in the belief that they're cute. They feed them copiously (because of course, feeding small mice to tiny snakes is good fun). Three years later, they find themselves with a pet which is 12-14 ft long, takes three people to handle safely, costs a fortune to feed, needs a room-sized vivarium to be happy, and which is still growing. Pet shops won't take these beasts back, of course, and nor will zoos. Luckily, they're usually reasonably placid. Though not always, and they normally get agitated at feeding time. A few people a year are killed by pet pythons, normally as a result of SFEs -- Stupid Feeding Errors.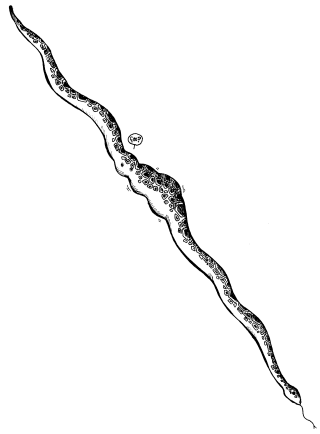 Pythons are not the brightest of creatures, aren't remotely tame, have rotten eyesight, and will go for anything that moves when they're hungry, even if it's far bigger than they could ever actually eat. Pythons have never heard that you shouldn't eat things bigger than your head. We were told a cautionary tale of a chap who needed both hands to open the vivarium so that he could feed his python. To do this, he held the tasty rabbit under his chin. Not a smart move.
Caro was fascinated by the snakes, but it would be difficult for her to have one as a pet. A key rule of snake-keeping is that you should avoid smelling of rodents when handling snakes. Caro looks after mice for a living -- so as far as snakes are concerned, she has a perpetual faint odour of lunch.
After telling us all these horror stories, they got Sophie out to show us. She had been asleep, wrapped up in a duvet in a large cardboard box under a table. Fifteen foot really is a very substantial amount of snake. Three hefty men lifted her out of her duvet. She was about seven inches across, and had an actual toon-style lump in the middle showing where her latest rabbit had got to. Her owner assured us that she wasn't remotely hungry at the moment, having eaten only a few days previously. But I still kept looking nervously at Marianne, who had reacted to the opportunity to meet snakes close up by falling asleep on the floor. Did she look tasty? Might Sophie fancy a Podsicle? Was she grumpy when she woke up in the morning?
While everyone was watching Sophie, one of the little Hognoses apparently made a bid for freedom. At any rate, there were three of them at the beginning of the evening and only two at the end.
We're expecting it to turn up on Dr. Plokta's alarm clock any day now.
--Alison Scott

---