Contents
Cover Illustration
A colour reproduction of the cover of the original paper fanzine.
Editorial
The editors explain why this issue is early.
Stranger in a Strange Land
Giulia de Cesare
Giulia experiences some difficulties with English as spoken by the English.
I Cuss, You Cuss, We All Cuss...
Giulia de Cesare
Giulia demonstrates that her linguistic difficulties are multi-national in this tale of an incident during her trip to Holland.
Dr Plokta and His Infeasibly Large Herpes
Alison Scott
The Plokta Cabal's adventures in reptile-keeping. Alison tells all.
The P-Plan Diet
The Cabal
In a blatant attempt to write a best seller, we reveal our secret diet tips for the first time.
Lokta Plokta
Threats appear to work, and we have a bumper crop of locs this time despite Dr Plokta busily wielding the Blue Pencil of Doom.
Scenes From an Eclipse
Alison Scott
Well, you didn't listen, and Ploktaroth ate the sun. But since you were good and got Plokta its Hugo nomination, he's put it back. For the time being.
---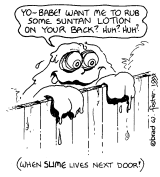 This is issue 15 of Plokta, edited by Steve Davies and Alison Scott (paper version) and Mike Scott (web version). It is available for letter of comment (one copy is fine, we pass them over to each other), trade (3 copies if possible, please), contribution, editorial whim, or chrome-plated metal rocket-ships.
---
"I'll open another bottle of the Swedish Government, before it goes off."
---
Artwork by Sue Mason (Satellite Dish, Asparagus, assorted snakes & geckos, Heineken, Red Wine Fairies), Joe Mayhew (First Contact, Lloyd Penney), Brad Foster (Slime, Timmy the Happy Mailbox), and SMS (The Sheep Look OAP).
Photos by Alison Scott (Cover, Hugo Seed, Gecko, Food, Topiary Dinosaur, Eclipse Watchers), Giulia De Cesare (Bracknell Beach) and A Cute Waiter (Restaurant).
The cabal also includes Giulia "You must be feeling hungry" De Cesare, Sue "Chained to the sketch pad" Mason, George "Hiss" the cat, Marianne "Want a wee wee, Daddy" Cain and Steven "It's Mummy's turn" Cain.
---
"Two of my feet have fallen off."
---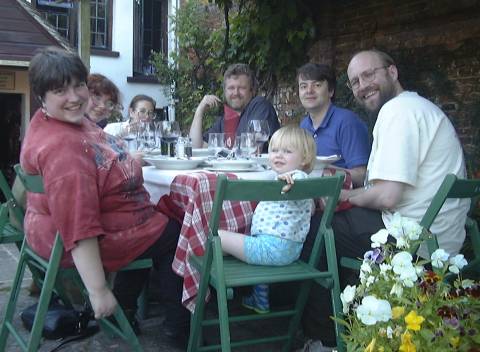 A Plokta cabal editorial conference
L-R Alison; Sue (on Giulia's right); Giulia; Steve; Marianne; Mike; Steven

---