Stranger in a Strange Land
I'm a foreigner. I've been here for ten years but I'm still a foreigner. And I never feel it more than when trying to cope with England's foreign accents. Sorry, regional accents. I've just spent a couple of days in Cornwall, for work. "Therr be trobble at t' database, Miss Demelzerr. Oi be getting' integerr divoid boi zero errorrr..."
I travelled by train. There's less chance of getting lost that way, and they let me go first class, and I can catch up on my reading. I brought The Stone Canal, (blatant plug) and three disks of smut (thanks, Sue). I found I was getting through the book faster than expected, due to reading it during dinners as well as on the journey out. There's nothing like a pretentious restaurant that prides itself on silver service to prolong a meal, and you can't really sit there with a laptop.
So, anyway, I was starting to worry about not having enough to read on the four-hour return journey. I could read the smut, and I was doing that in the evenings in my room, but on a previous occasion I had nearly made myself sick trying to work on the laptop on the train. After about two hours I had a throbbing headache, a heaving gut and a flat battery, and it hadn't even been smut that time but actual work, so I didn't want to rely on the computer. The free copy of the Telegraph wouldn't last long either. I had to buy another book.
There weren't many shops near the hotel but I eventually found a small newsagent. They only had magazines, mostly the sort you buy for the pictures, not the words. I asked the nice lady if there were any bookshops nearby. Well, no, she said, not round here. But there's always Alster.
Alster? I said. Is it far to walk?
Oh, about twenty minutes, go up the hill to the roundabout and turn left.
I looked at my watch. Won't they be closed by then?
No, they're open till ten. Or there's Tesco, they're open late too.
Alster, I repeated uncertainly.
Alster, she replied firmly. Left at the roundabout. Twenty minutes.
So I set off, trudging up the hill. Alster. Don't remember any signs to Alster. Maybe that wasn't how it was spelt. I used to get terribly confused by someone who said he came from Ulster, until I saw it written down: Alcester. But I didn't think that was in Cornwall.
And did I really need a book, anyway? I have lots of books. I just don't have them here.
The thought of a four hour train journey with nothing but the Telegraph to read drove me on. And, anyway, it might be a really nice little bookshop, who knows what you might find, I told myself as I panted up the hill.
Alster Ulster Olster Alcester Towster Aoughlster as in Dun Laoghaire, I thought, as I trudged along, I love English place names. Still, I'm sure I'll recognise it when I see it.
I was getting desperate for a pee. This had better be a damn good bookshop.
Up the hill. Left at the roundabout. The sign on the roundabout said Truro. Down the hill. It's easily been twenty minutes. Nothing ahead but a long road full of houses. Then I saw it, on my left.
Asda.
Oh, bollocks, I thought.
Then again, at least they'll have toilets in there.
And I bought a book, too.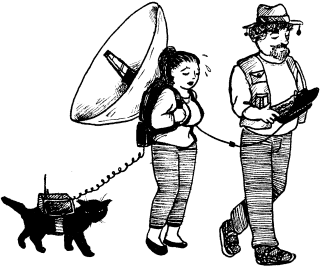 --Giulia de Cesare

---