Julian Headlong
I see that not content with destroying Critical Wave, the people responsible for SFX have now decided to take on the journal of superfluous technology by launching a sister publication called T3; a magazine wholly dedicated to digital cameras, PDA's, laser pointers, and cars with unfeasibly large airbags. Once Plokta has been driven to the wall, then the SFX crew will be free to launch their hyper-glossy version of Attitude, their deluxe format Ansible, and their full colour D West -- the (eery) Graphic Novel [September 1997: That was originally "the (very) Graphic Novel", but the OCR software has made a serendipitous mistake. I like it so much I'm leaving it in. -- Webmaster], and so to take over all of fandom! I suspect it's all a plot by a certain MJ "Simo" Simpson, crazed by losing the TAFF ballot, he is seeking revenge by planning the conquest of all fanzines. We must resist! Take a stand on your seats and fight back! We will fight him on the benches, we will fight him on the suites, we will never surrender! Uh, sorry, I think I got carried away there. Anyway, does Plokta have a plan to survive this unfair competition?
Yours superfluotechnophillically, Julian
---
Ken Cheslin
I did think of writing after getting P2 actually, and reading that review of TBE5, but wasn't sure then, or now, if you weren't the sort of person who... let's say... seeing the folk sleeping in doorways, like in London, might have the attitude, "how unsightly, turn the buggers out, turn hoses on them or something" and have no sympathy for their plight. My reaction was not one of anger, I'm too much of a door-mat for that, rather 'he's right, he's right, I'll just crawl away and flush myself down a toilet'.
I really envy you, having the means to produce neat fanzines. Maybe folk like me should just pack up. You're right about me not having email, ...got an ex-Oxfam typer (£7.50 it cost me) and a roneo, and living on a pension. I feel ashamed aspiring to pub a fanzine, it's best left to a better class of fan, ones with jobs and computer and p-copiers... oho, now I am letting myself get cross. Anyway, I really do think that the review was a bit over the top... not for the content... but how it was put... and you never mentioned the content... supposing that you did or could read it.
---
A Vincent Clarke
In no. 3 a box was marked "Plokta is insufficiently serious" as a reason you thought I hadn't locced No. 2. Funny that, 'cos the reason I didn't LoC was because I couldn't make up my mind if your fanzine reviews in No. 2 were meant to be serious. I was wrestling with this question for so long that Plokta 3 plopped in before I'd put dot-matrix printer to paper.
You see, all the fanzine reviews seemed to be based on the look of the 'zine, and occasionally the technology used. I've come across this just once before - in an Australian fanzine in the mid-80's - but the guy who wrote those reviews was an absolute fanatic, and he could be excused because he offered various Helpful Hints, and didn't sneer at out-dated technology. As I said, I couldn't make up my mind. Such apparent snobbery! It seemed incredible that a fan should worry about that sort of thing, instead of what was actually written in the 'zines reviewed.
---
Lloyd Penney
Not quite an Attitude, hm? With Langford the Hugoman to lead the troops, most UK fanzines I get have an attitude problem. I did read in an ish of Attitude that Alison has trouble finding bras that fit, and here, I read she's budding. I think I see the connection here. (Famous breasts, Alison? Not to us colonials what ain't seen 'em. Yes, I am a rude bastard, and proud of it.)
[If you don't watch out, the famous digital camera will come to the rescue here]
Sounds like Steve's sausages were prepared by the Thenardieres from Les Miserables:
"Food beyond compare, food beyond belief,
Mix it all together and pretend it's beef,
Kidney of a horse, liver of a cat,
Stuffing all our sausages with this and that."
I'll ask master chronologist Steve... will 2000 have two leap days? I'd heard that it would, and that before computer techies can figure out what to do about the year 2000 in computer calculations, they have to put together a software patch to allow for a February 30 in the future.

[For a start it's Mike who's the chronologist. It has been estimated that it will cost a trillion dollars worldwide to solve the Year 2000 Problem. Plokta worries that if your understanding of the calendar is widely shared, it will cost another two trillion to fix the solution.]

Perhaps you can ship Gary Farber to the UK in pieces. [If he doesn't get his passport soon, we will] He can ship those pieces he has the least use for immediately to the Ravening Maenads, and then a few pieces more, and more, until he's over there completely. If he's guesting at a con, there can be prizes for the Most Creative Reassembly of the FanGoH.

Worldcon storage rooms are great fun! Huge piles of equipment, paper, supplies, ribbons, gophers, etc., and never where they're needed. At the '84 Worldcon in Anaheim, I stumbled into a storage room, and promptly found all the Hugos. A veritable invasion fleet was sitting on a double bed, ready for launch.

I'll have to do something embarrassing... hm, describe my last rectal exam? No, not that... Okay, my CPU is a 286! (Oh, the embarrassment, the shame.)

Thank you kindly for two great issues, and now, a question. Where's the third issue? C'mon, make it snappy, I haven't got all day. [You'll have to make do with #4]
---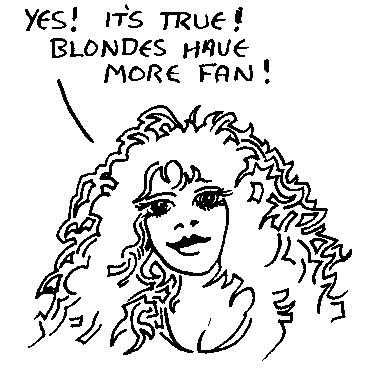 Terry Jeeves
What does Plokta mean - my dictionary of unpublished and incorrect acronyms says, simple, Plokta People Looking Over Kind Tame Animals. Of course, this is the 1803 edition, so it may be wrong.
I turned green with envy over the superb repro, makes my 9-pin dot matrix Epson and Samsung look archaic. (Don't add, "They are"). I was particularly tickled by the Farber Dollar.
I liked the overall zany attitude of Plokta, snag was it became tricky to decide which was real and which was tongue in cheek.
---
Teddy Harvia
"Anal-retentive", that pseudo-intellectual cliche, seemed clever the first time I heard it years ago but has since lost its kick. Here in the States we prefer the Anglosized version, "butthead" (no hyphen).
[And on a different postcard]
"Zaftig" was a word new to me. After reading the dry definition in the dictionary, I was inspired to search for it on the Internet. I got 110 hits, several of them forbidden to me by my provider. I love those graphics!
[And on yet another postcard]
In the amusing weather report cartoon, is the lightning coming from Leeds or striking Leeds? Is angst a natural source of static electricity? The woman in the elephant caption photograph is gorgeous. [Woo-ee! -- A]
---
Peter Wareham
On the subject of the demon-eyes-ation of Tony Blair, I liked the comment heard recently on the News Quiz. "The Tories hired this actor, painted his eyes red, turned them upside-down, and they're still not as scary as Tony Blair's own eyes."
This LOC produced on ASDA Quality Bond writing paper using a Zebra New Hard N-5200 blue biro. I really can't see the need for any higher level of technology than that.
---
Walt Willis
Thank you for sending me Plokta #2. Thank you also for sending me Plokta #1, if you did as suggested on your back page. I don't remember getting it, but I suppose it's possible that I did and have completely forgotten it and lost all trace of it. What with back trouble and a spinal operation and moving house, my filing arrangements, such as they were, have gone from the primitive to the non-existent. The other day, for instance, I lost the Solicitor's bill for selling our house, and buying the new one, and ran it to earth in a tray which was supposed to house only fanzines. Yes, I have checked it for Plokta #1, with no success. I don't suppose you got a cheque from me for £1780.55?
Mae Strelkov's passing mention of Bob Shaw brings home to me the magnitude of our loss. There's only James White and our wives left of Irish Fandom and I can't help wondering who will be next. And whether anyone will remember Backslash and Emdash.
[Another letter from Walt]
You'll be relieved to know that my copy of Plokta 1 has been found. I particularly liked the account of the Energiser Bunny, but my favourite was the poignant piece about Walter. You don't make it clear that Walter eventually was made redundant, but obviously that is the fate of thousands like him whose functions are more efficiently performed by computers, like unskilled labourers who have been replaced by earth-moving machines. It has always seemed to me that if the employers in question had to meet the social cost of making people redundant, eg unemployment benefit, they wouldn't be so quick to do so. There would be a lot to be said for making employers meet the full real cost of making people redundant.
The technical question which puzzles me at the moment is what to do with the electric Gestetner which now lies on the front doorstep of our old house, waiting for me to make up my mind whether to ask the local authority to collect it with their garbage truck, or ask my son to deliver it to the garage of my new house. The answer to this question depends on my decision as to what to do on the occasion of the 50th anniversary of Irish Fandom in 1997. The issue of Hyphen that marked the 40th anniversary was run off on that Gestetner, but I wasn't satisfied with the reproduction, nor sure I have the energy to go through that exercise again. Obviously the sensible solution would be to acquire a computer-based reproduction system, but which one?
---
Jackie Duckhawk
Muffin has arrived -- 2 weeks late and renamed Christopher. His birth was facilitated with very little superfluous technology, I'm glad to say. (Midwife: "I can't seem to get the scalp electrode on... never mind, I'm sure he's all right really.")
[Another letter from Jackie:]
Recently visiting our local supermarket, we observed Ms S*r*h W**d*ll fiddling with something. Later, we encountered her and her fiance in the queue at the till, where she explained that their shopping trip had taken twice as long as usual because their walkie-talkies weren't working.
Christopher Robert Duckworth is now big, chubby and very placid, and is currently watching Playdays with his big sister. One wouldn't dream of dumping your first child in front of the TV at 2 months old, of course.
---
Rhodri James sent us a COA [From which the actual address and phone number have been edited]:

and eaten it. There is a house here. Rhodri James is here.

> TAKE ALL

You take the house

You take Rhodri

> N

You are in **** **** Road. There is a telephone box here. You are staggering under the weight of your possessions.

> DROP HOUSE

The house neatly slots into place as 135 **** **** Road, Cambridge, CB4 ***.

> PHONE RHODRI

You dial (01223) ****** and wait while the telephone rings. An answerphone tells you to email rhodri@wildebst.demon.co.uk as he isn't in at the moment.

> DROP RHODRI

"Ouch" says Rhodri. He wanders inside his house to get a drink.

> ENTER HOUSE

You don't have the key. So there.
---
Karen Pender-Gunn
Dear Sue: [Alison, shurely? - Ed.] I think Pod is a wonderful name for the entity growing inside you. I think all such self-terminating tumors should be called such. I have been asked by a friend to make a space bear (read: Star Trek bear but we have to be very careful here in Oz about using that name -- the Trek Police will get me) and seeing it turned out well I might make some more. That would confuse the relatives.
---
Brad W. Foster
I've been using this old manual typewriter for so many years, there is a large groove worked into the space bar from being struck by my thumb some one hundred gigaga-zillion times now. I've got pieces held in place with clips, others taped on, and I have to hump-start the ribbon now and then when it wants to hang up in one spot. But, I still love this little hunk of metal! I always wish there was some way I could hook up this keyboard to the computer!
---
James Steel
I am writing to express my deep concern at the possibility of serious structural failure in your august journal. On receipt of the latest edition of your fount of erudition I discovered that its peripheral connective devices were lamentably sub-standard, with the result that its narrative structure was only preserved by recourse to the otherwise superfluous numeration provided.
What you need is a better electric stapling machine.
You state in your editorial that only one reader has written in to say what PLOKTA stands for. Personally I think it should stand for parliament. It couldn't do any worse. Think of superfluous technology as an election pledge. A combination colour scanner and foot massager in every home! Videophone intercoms so you can see the person upstairs when you're shouting to them!
I heard recently of a new and exciting communications device using fibre optics. Apparently you take a length of thin fibre optic cable and two tin cans...
I should be going now, I think the interns have seen me.
Also, your web page should be more firmly stapled.
---
Buck Coulson
Beer drinkers; bah. Beer is for people who like to pretend they're drunker than they are. Beer is okay for conventions, though I fondly recall a Baen Books party at a Worldcon where I asked for rum and the bartender handed over a glass and the bottle. My knees tended to wobble for the rest of the night, and I spent lot of time leaning against walls while conversing, and nobody noticed. I'd just as soon have a cola as most beer, though one con where we shared the hotel with a microbrewery convention was memorable; that was good beer.
I resent your comment, Harry; I'm a fan and I've never symbolized anything. Besides, fans are among the most conformist people in the world, especially the "faaanish" sorts. They don't conform to the outside world, but boy, do they ever conform to each other! And, of course, to the fannish gurus who tell them what fans are supposed to be like. Admittedly, they're becoming less so, now that cons are getting bigger and peopled with stf readers who never heard of the fannish ghods and proper customs, but those give the trufans something to bitch about.
[Beer. Let us make it clear that when the Plokta cabal talk of beer we refer only to the most expensive cask and bottle-conditioned beers we can lay our hands on. Unless it's hand-crafted by ancient brewmasters in vats containing the bones of at least three dead heroes, we aren't interested. As cardcarrying members of the Campaign For Real Ale it would be more than our lives are worth to drink anything else.]
---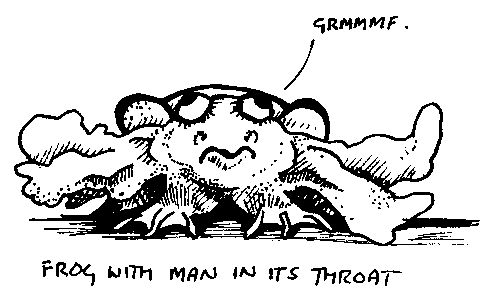 Bobby MacLaughlin
The only remotely scandalous thing I've done lately is enter one of these twee competitions.....
"I like Premier Dairies Cream because..." I completed the line with:
"...I enjoy pouring it over my boyfriend and licking it off."
They sent me a runner-up prize of strawberries covered in double-cream white chocolate, with a little bottle of Moet & Chandon. Actually I think I could have won the first prize of a weekend for 2 in a French chateau in Champagne if only they hadn't thought I was a gay bloke and therefore wouldn't look that right on their publicity photos. Bugger. Or not, as the case was. Should have remembered to sign myself Ms.
[Bobby added lots of good tips on pain management in labour. However, Alison's thinking of using a stunt double for the labour scenes. Or possibly lots of beer.]
---
Dave Clements
The Tall Technical Tales panel at LACON 3 (unaccountably renamed by the committee to Amusing Stories from Science and Technology Research and Development, but still succeeding in getting a large audience) had lots of stories of superfluous technology. You can also do wonders with dry ice in a kettle or in a toilet, especially if you add green food colouring and some washing up liquid.
---
Julian Headlong
Further to my communication in Vol.1 No.2 of the JoST, I have found an interesting reference to the subject matter of your Journal in another academic work. On page 25 of the scholarly work The Shockwave Rider by J.K.H. Brunner, the author describes the aftermath of a power failure. "How many separate soft hums had ended? Computer, water cooler, water heater, air conditioner, alarm monitor...et cetera. It was not customary to recall offhand how many powered devices one owned; therefore he didn't."
I, on the other hand, have carefully counted the powered devices I own, and am pleased to report that I have at least 47 (not counting the car or any devices therein). With this small start I hope that a more analytical approach to superfluous technology can be made in the future.
J. Headlong, AFBIST (Associate Fellow, British Institute of Superfluous Technology).
---
Karen Pender-Gunn
A very kind Cheryl Morgan bought Ian a video of the Clangers from the UK and we are hooked! They are so very cute. I have never seen them before but now I understand the photo in Plokta 2. We got a Best of ... tape, are there any others? We need them! I didn't know Plokta stood for anything, am I dim? I looked it up in the dictionary but it wasn't there. Sigh. May you have lots of blue string pudding for tea.
---
Dave Hicks
That's it, go on, bugger up my arty fan-critical theories and see if I care! Thought it was good stuff but: "...there's less likelihood of there being a Plokta #2,3,4 and so on in the same vein..." I predicted, wearing my best poncey fanzine critic hat for Critical Wave #46. Thought you'd fragment and do all sorts of wild and crazy things, see, thought you'd bounce around between formats like a pinball on steroids. Fanzine critics don't like this sort of thing. Contracts have been taken out for less. If these were still the days of KTF reviewing you'd be central tunnel supports on the Docklands Light Railway by now for such impertinence.
How did you compile your mailing list? The usual method is by reading through everybody else's lettercolumns and copying out the correspondents' addresses. This is going to be a bit tricky for those who follow in your footsteps if editors start only printing e-mails addresses, isn't it?
[Point taken.]
Our brand new washer-drier arrived from Comet yesterday. We were most upset when the delivery men took the huge cardboard box away with them. A little decoration and it would have made a splendid guest room, accommodating at least four fans.
I continue to enjoy Plokta for being vigorous and regular -- or is that my bowels? -- and part of the modern, dynamic fanzine scene of which I will once again be a part a soon as I get off my arse (sorry, bowels again).
---
Antony J. Shepherd (Dop)
When I saw Sue's Beavis & Butthead picture, I had hysterics. The first time I ever saw Beavis & Butthead was when I was living with Simo. This is 'living with' i.e. to share a flat with, and NOT any other use of the euphemism 'living with'. Puh-Lease! Credit me with some taste!
[Oh yeah? You can't fool us, Dop!]
We watched, turned to each other, and said "Don't say one word! Don't you dare go 'huh huh huh -- that was cool!'" Anyway, we were more like Men Behaving Badly.
[In your dreams...!]
---